Canada's CFO of the Year Award™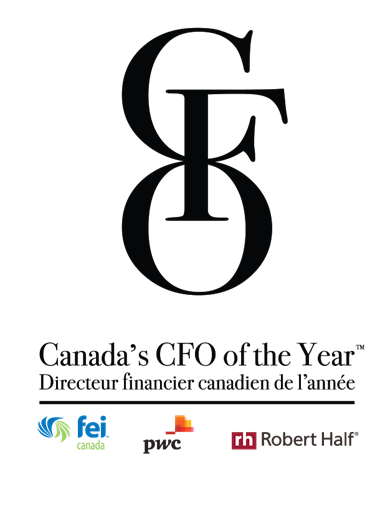 Canada's CFO of the Year Award™ is a trademarked award exclusive to FEI Canada. The annual Award ceremony is highly publicized and attracts large corporate sponsors from a variety of sectors.
The award honours the quality, insight, direction, and leadership of Canada's senior financial leaders.
Click here to learn more about Canada's CFO of the Year™ Award.
Association with one of the most prestigious Canadian business award
Recognition through media exposure and communications
Complimentary table at award ceremony
Sponsor executive involvement
Where appropriate, sponsors will have access to FEI Canada and PwC activities throughout the year
Industry exclusivity
Website linkage
Recognition as a sponsor at the award ceremony
A list of award ceremony attendees
Sponsorship for Canada's CFO of the Year Award™ is limited.
For information regarding sponsorship opportunities please contact Steve Ilkiw at silkiw@feicanada.org or 416.366.3007 ext. 5108.
Current Sponsors
Current Presenting Sponsors: FEI Canada, PwC, and Robert Half.
Other Sponsors Include:
Recipients of Canada's CFO of the Year™ Award

2018: Nathalie Bernier, Senior Vice President, Strategic and Business Planning and Chief Financial Officer, PSP Investments
2017: Michael Rousseau, Executive Vice President & Chief Financial Officer, Air Canada
2016: Gord Nelson, Chief Financial Officer, Cineplex Inc.
2015: Dean McCann, Executive Vice-President and Chief Financial Officer, Canadian Tire Corporation, Limited
2014: Janice Fukakusa, (Fomer Chief Administrative Officer and Chief Financial Officer, Royal Bank of Canada)
2013: Brian Lawson, Chief Financial Officer, Brookfield Asset Management
2012: Colleen Johnston, (Former Group Head Finance and Chief Financial Officer, TD Bank Group)
2011: Gordon Maron, Executive Vice President (former Chief Financial Officer), PCL Construction Holdings Ltd.
2010: Richard Bird, Executive Vice-President, Chief Financial Officer and Corporate Development, Enbridge Inc. and Cynthia Devine, Chief Financial Officer, Tim Hortons Inc.
2009: David Garofalo, President and CEO, HudBay Minerals Inc. (former Chief Financial Officer, Agnico-Eagle Mines Ltd.)
2008: Bruce Waterman, EVP, Chief Strategy Development & Investment Officer (former Senior Vice-President, Finance and Chief Financial Officer), Agrium Inc.
2007: Marvin Romanow, Chief Executive Officer (former Chief Financial Officer), Nexen Inc.
2006: Karen Maidment, former Chief Financial and Administrative Officer, BMO Financial Group
2005: Claude Mongeau, Chief Executive Officer (former Chief Financial Officer), CN