2010 Winners – Dr. Barry Gorman and Bill Hewitt
FEI Canada is pleased to honour Dr. Barry Gorman of the Atlantic Provinces Chapter and William Hewitt of the Toronto Chapter as the co-recipients of the 2010 Frank S. Capon Distinguished Service Award.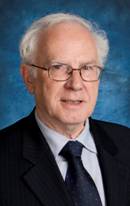 Dr. Barry Gorman
Dr. Gorman has been a member of FEI Canada since 1992. He is currently chair of the Board of Trustees of CFERF, the Canadian Financial Executives Research Foundation; a member of the Board of Directors of Financial Executives International, Canada (FEI Canada); Vice Chair of FEI Canada's Issues and Policies Advisory Committee; and chair of FEI Canada's Taxation committee.
Dr. Gorman has taught accounting and taxation classes at Saint Mary's since 1979. He was the Acting Associate Dean of Commerce during the 2001-2002 academic year and a past chair of the Department of Accounting. Prior to coming to Saint Mary's he was engaged in private practice for eleven years, focusing primarily on accounting and taxation issues for small and medium-sized businesses.
Dr. Gorman is Secretary of the Atlantic Branch of the Society of Trust and Estate Practitioners, and is the long-time coordinator of the Atlantic Tax Conference. In the past, he has been the Governor of the Canadian Tax Foundation, a member of the Canada Revenue Agency Appeals Advisory Committee in Ottawa, and the Program Director of the federal Progressive Conservative Task Force on Taxation.
William Hewitt
Mr. Hewitt has been a member of FEI Canada since 1970. Though he is a member of the Toronto chapter today, he was a founding member of FEI Canada's Southwestern Ontario Chapter and was the chapter's first president in 1977.
He has served as chair of the Policy Forum (then known as IPAC), as well as a trustee of CFERF. He was also the president of the Toronto Chapter in 1981. Mr. Hewitt is involved in the FEI Canada FEIsters group and a long-time member of the investments group.
Mr. Hewitt started his career as a securities analyst and corporate finance officer with Bache & Co. in their Toronto office, before moving on to become Treasurer and then Vice President Finance of Allpak Products in London, Ontario.
Mr. Hewitt has served as Chief Investment Officer of Scotia Cassels Investment Counsel Limited, Principal Officer and Vice President, Investments for Sun Life Assurance Company of Canada, and Secretary/Treasurer for Imperial Trustees. He has also served on both public and private company boards of directors.
Outside of FEI Canada, Mr. Hewitt's extensive volunteer work includes service as a member of the Editorial Advisory Board for Financial Executives Magazine; Director, University of Toronto Asset Management; Investment Committee Member, University of Western Ontario; Director, Albert and Temmy Latner Family Foundation; Past Chair of the George R. Gardiner Museum of Ceramic Art; Trustee of the Rehabilitation Institute of Toronto; and a Trustee of Eglinton St. George's United Church at Lytton & Duplex in Toronto ON.