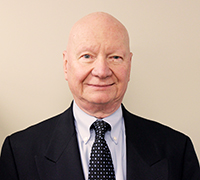 2013 Winner – Tom Evans
FEI Canada is pleased to honour Tom Evans of the Southern Golden Horseshoe Chapter as the recipient of the 2013 Frank S. Capon Distinguished Service Award.
Mr. Evans has been an active member of FEI Canada since 1987. He was a director of FEI Canada's Board of Directors for eight years, serving as its chair in 2005/2006. He has been a director of the Advisory Council on the Canadian Financial Executives Research Foundation (CFERF) since 2008 and has served as its Vice Chair since 2011.
Mr. Evans was also president of the Southern Golden Horseshoe (formerly Hamilton) Chapter and has been chair of the chapter's program committee and sponsorship committee. In addition, he has been a member of the chapter board for many years.
Also interested in FEI Canada's advocacy efforts, Tom is currently a member of the Taxation, and Governance and Risk committees of FEI Canada's Policy Forum.
Mr. Evans is a veteran business leader and currently a business advisor with StratAdvisory Associates. He has experience in a wide scope of executive positions, primarily in the insurance industry. Tom was Chief Agent and Business Leader at GE Employers Reassurance Corp., General Manager of Finance and Administration for the County of Simcoe, and Vice President - Finance and Secretary-Treasurer at Revios Reinsurance. He has participated on a number of boards, including New York Life Insurance Co. of Canada, Revios Reinsurance, The Burlington Art Centre, the Tax Executives Institute, and Life Insurance Institute of Canada, which he chaired.